---
White Chocolate Carrot Cake Muffins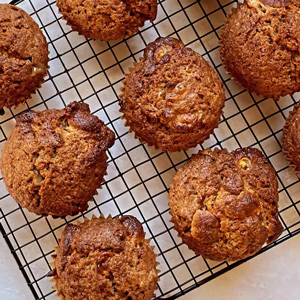 "Carrot + white chocolate you ask? YES it's a great pairing! These are often my go-to numbers for school lunchboxes as they are super quick + easy and are a great combo of hidden veggies with a chocolate treat all at the same time." - LeeAnn Yare
Prep: 10 mins

Bake: 60 mins or less

Eat: Makes about 12 muffins
Share this recipe
Ingredients
1 Gold Label Carrot Cake Baking Mix as per pack, PLUS
1 extra egg
White Chocolate Baking Chips
Method
Make up Gold Label Carrot Cake as per instructions, adding an extra egg.
Fold in White Chocolate Baking chips.
Bake in muffin wraps, or as a cake.
Muffins bake faster than cakes. Check muffins at 35 minutes to avoid overbaking.
© Recipe created for Bakels by @leeannyare
---
Find the complete range in your local supermarket today!