divine chocolate
Lava Cake
Baking Mix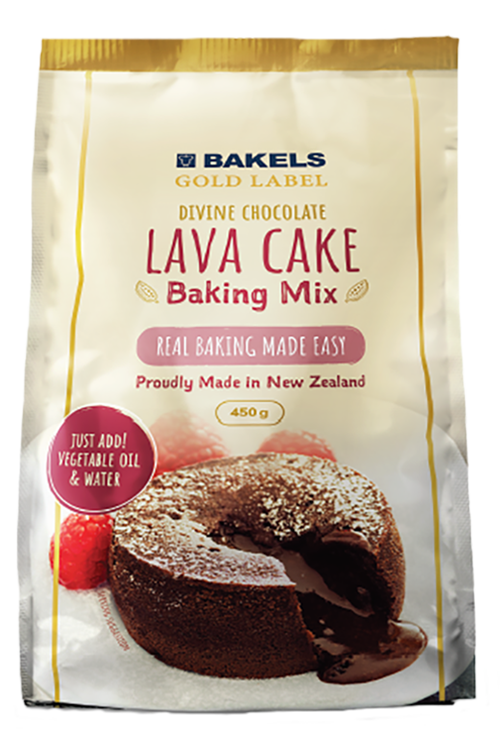 Allergens: Gluten, Milk.
NUTRITION INFORMATION
Servings per package: 12
Serving size: 37g
Ave Quantity
per Serving
Ave Quantity
per 100g
Energy
583 kJ
1580 kJ
61 cal
165 cal
Protein
3.4 g
9.2 g
Fat, total
0.7 g
1.8 g
- saturated
0.3 g
0.8 g
Carbohydrates
28.9 g
78 g
- sugars
21.9 g
59.2 g
Dietary Fibre
1.4 g
3.8 g
Sodium
124 mg
336 mg
INGREDIENTS: Sugar, Wheat Flour, Cocoa Powder (10%), Whey Powder, Milk Protein, Salt, Raising Agent (500), Flavour.

---
What you'll need:
450g Divine Chocolate Lava Cake Baking Mix
1 Cup Vegetable Oil
3/4 Cup Water
Get Baking!
Preheat oven to 195°C (Fan Bake).
Place all of the ingredients into a mixing bowl.
Mix the ingredients on a low speed for 1 minute.
Scrape down the sides and mix again on a medium speed for 2 minutes.
Pour the mixture into a jug for greater control, then divide the mixture evenly into 12 lined muffin tins (70g per muffin tin).
Note: Greasing the tins without liners will work however muffin cases give a better result.
Bake for 15 minutes then allow to cool before removing from the muffin tins.
The Lava cakes will appear a bit soft and slightly under baked - that s fine.
---
Proudly Made in New Zealand