scrumptious
Carrot Cake
Baking Mix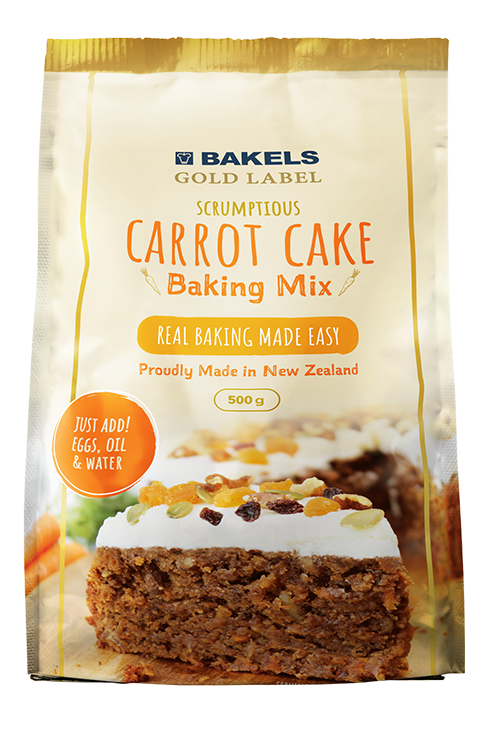 Allergens: Gluten (Wheat).
NUTRITION INFORMATION
Servings per package: 10
Serving size: 50g
Ave Quantity
per Serving
Ave Quantity
per 100g
Energy
825 kJ
1650 kJ
197 cal
394 cal
Protein
2.5 g
4.9 g
Fat, total
4.5 g
8.9 g
- saturated
1.3 g
2.5 g
Carbohydrates
37.0 g
73.0 g
- sugars
24.3 g
48.4 g
Dietary Fibre
2.9 g
5.8 g
Sodium
303 mg
605 mg
INGREDIENTS: Sugar, Wholemeal Wheat Flour, Vegetable Oil, Raising Agent (500), EMULSIFIERS (471, 477), MIXED SPICE, CINNAMON, SALT, STABILISERS (412, 415), ANTIOXIDANT (300)

---
What you'll need:
500g Bakels Carrot Cake Baking Mix
3 Eggs
1/2 cup Canola Oil
1/2 cup Water
Get Baking!
Preheat oven to 170˚C.
Line a 20cm round cake tin with baking paper.
Place all of the ingredients into a mixing bowl.
Mix the ingredients on a low speed for 1 minute.
Scrape down the sides of the bowl and mix again on a medium speed for a further minute.
Pour the cake mixture into the prepared baking tin.
Bake at 170˚C for 60 minutes or until an inserted skewer comes out clean.
Note: Cake should be placed on the central rack of your oven.
---
Use this mix to also make these recipes below:
Proudly Made in New Zealand