irresistable
Doughnut Baking Mix
Baking Mix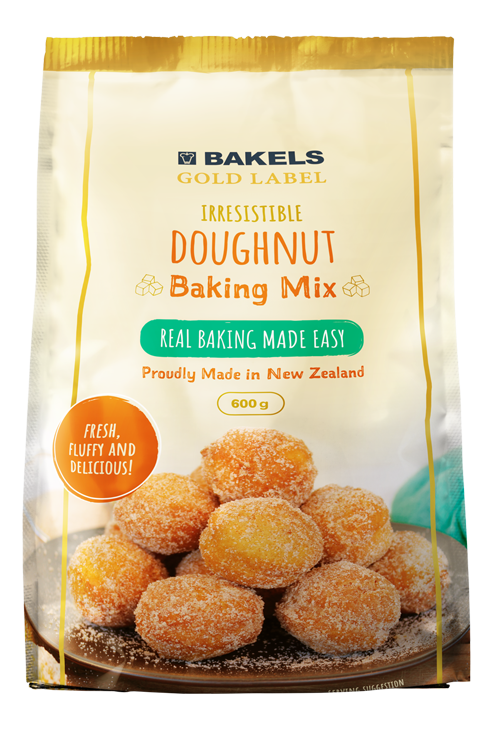 Allergens: Contains Wheat, Gluten, Soy, M
NUTRITION INFORMATION
Servings per package: 10
Serving size: 30g
Ave Quantity
per Serving
Ave Quantity
per 100g
Energy
471 kJ
1570 kJ
125 cal
375 cal
Protein
2.8 g
9.3 g
Fat, total
1.7 g
5.7 g
-saturated
0.3 g
1.0 g
Carbohydrate
20.9 g
69.6 g
-sugars
8.4 g
27.9 g
Sodium
259 mg
862 mg
INGREDIENTS: Wheat Flour, Sugar, Defatted Soy Flour, Whey Powder (Milk), Vegetable Oil, Egg Yolk, Potato Starch, Raising Agent (450, 500), Salt, Emulsifier (Soy Lethicin, 471), Stabiliser (466), Natural Flavour.

---
What you'll need:
Gold Label Doughnut Mix
200g water
Get Baking!
Pour 220g water into a bowl.
Add half of the Gold Label Doughnut Mix into the mixing bowl and mix with a wooden spoon until it turns into a smooth paste.
Add the rest of the Doughnut Mix into the mixing bowl and mix for another 5 mins until smooth.
Cover and rest the dough in the fridge for 30 minutes.
Dust the bench with flour and tip the rested dough onto the dusted bench.
Dust the top of the dough with flour before flattening the dough.
Flatten dough with well dusted hands, while lifting the dough up and dusting the bottom of the dough to avoid the dough from sticking to the bench.
Flatten the dough to 5mm thick, then dust your 4cm cookie cutter or a milk bottle cap before cutting the dough.
Carefully place the dough in the deep fryer and turn them gently, until they turn golden brown all around.
Make a mix of sugar and cinnamon and coat doughnut balls while warm.
---
Use this mix to also make these recipes below:
Proudly Made in New Zealand