---
Melting Moments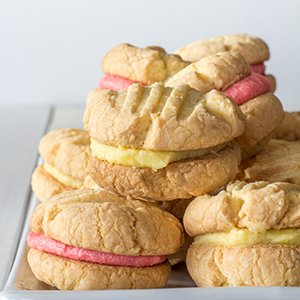 Ingredients
260g BAKELS GLUTEN FREE FLOUR
250g butter
95g icing sugar
Vanilla essence
Method
Place butter and icing sugar into a mixing bowl.
Mix on slow speed, followed by high speed to a light fluffy consistency.
Add Bakels Gluten Free Flour and a drop of vanilla essence and mix to a smooth consistency.
Using a large star nozzle, pipe biscuit mixture into rosettes.
Bake at 160°C for 10-12 minutes, Check.
Cool and ice half of the biscuits.
Place the other half on top.
---
Find the complete range in your local supermarket today!