---
Coconut Ice Square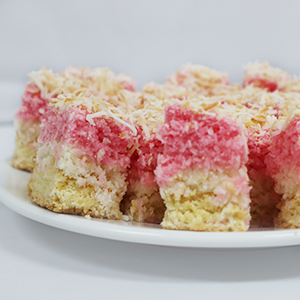 Ingredients
½ cup coconut
125g butter
125 g sugar
1 egg
1 cup BAKELS GLUTEN FREE FLOUR
1 tsp Gluten Free baking powder
Method
Combine butter and sugar, add egg then dry ingredients.
Bake at 180°C for 20 minutes in a sponge roll tin.
While base is cooking melt together the topping.
Topping
Stir briskly and spread on to hot shortcake and cut into squares when cool.
---
Find the complete range in your local supermarket today!