---
Chocolate Muffins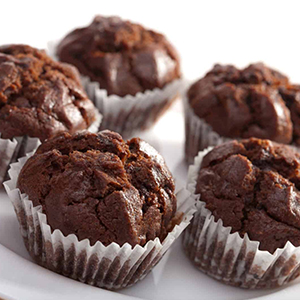 Ingredients
4 Tbsp butter
1½ tsp Gluten Free cocoa powder
5 Tbsp chocolate chips
⅓ cup sugar
2 eggs
⅓ cup canola oil
1 cup Bakels Gluten Free Baking Mix
Method
Cream butter and sugar until light and fluffy.
Beat in eggs one at a time, mixing well after each addition.
Slowly add the canola oil and mix in.
Sift Bakels Gluten Free Baking Mix and Gluten Free cocoa powder together then add to the butter mixture.
Mix until combined.
Add the chocolate chips and just blend in.
Spoon into Greased Muffin tin (Line with cup cake liners).
Bake at 180 °C for approximately 20 minutes.
Leave in tin for 10 minutes before turning out onto cooling rack.
---
Find the complete range in your local supermarket today!