---
Chocolate Chip Cookies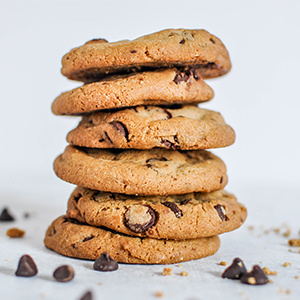 Ingredients
150g butter, softened
⅓ cup sugar
½ cup brown sugar
1 tsp vanilla essence
2 eggs
1 tsp Gluten Free cocoa powder
⅔ cup chocolate chips
2½ cups Bakels Gluten Free Baking Mix
1 tsp Gluten Free baking powder.
Method
Cream butter, sugar and vanilla essence until light and fluffy.
Beat in eggs.
Sift Bakels Gluten Free Baking Mix, Gluten Free baking powder and cocoa powder and stir into mixture to form a dough.
Add chocolate chips and combine until mixed through.
Roll into balls of desired size and flatten slightly.
Place on tray and bake at 180°C for 12-15 minutes.
Remove from oven and let cool on tray for 10 minutes.
---
Find the complete range in your local supermarket today!