---
Chocolate Brownies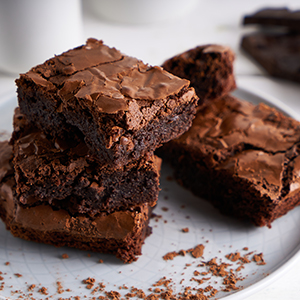 Ingredients
1 egg
½ cup sugar
2 Tbsp cocoa
125g butter
1 cup GF rice bubbles
1 Tbsp golden syrup
1 Tbsp honey
1 tsp vanilla essence
1 cup BAKELS GLUTEN FREE BAKING MIX
1 tsp Gluten Free baking powder
Method
Sift together dry ingredients.
Combine sugar, butter, golden syrup, honey and vanilla essence into a microwavable jug and heat until butter melts and the sugar is dissolved.
Beat eggs and add to wet mixture, add dry ingredients and combine.
Deposit mixture into a lamington tray.
Bake at 180°C for 10-15 minutes.
Ice with melted chocolate chips when warm and cut into squares.
---
Find the complete range in your local supermarket today!