---
Tomato and Olive Bread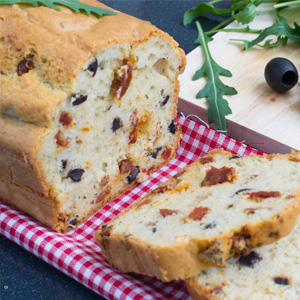 Ingredients
1⅔ cups tepid water
1 heaped tsp Active Yeast
¼ cup sundried tomatoes
¼ cup pitted olives chopped
2⅔ cups Bakels Gluten Free Bread Mix
Method
Dissolve yeast in 1/32 cup of tepid water.
Place Bakels Gluten Free Bread mix in a large bowl and form a well.
Place remaining water in well, followed by yeast mixture, beat using an electric beater for 3-4 minutes.
Cover bowl and let stand for 30 minutes.
Mix dough on a medium speed for 2 minutes.
Fold through sundried tomatoes and olives.
Deposit into a greased bread tin and place in a warm, moist place for approximately 45 minutes.
Bake in a pre-heated oven at 200°C for approximately 25 minutes.
---
Find the complete range in your local supermarket today!