---
Louise Cake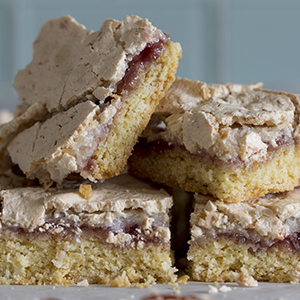 Ingredients
70g butter, softened
2 eggs, separated
½ cup coconut
¼ cup sugar
¼ sugar
¼ cup raspberry jam
1½ cups BAKELS GLUTEN FREE BAKING MIX
1 tsp Gluten Free baking powder.
Method
Cream butter and first measure of sugar until light and fluffy.
Beat in egg yolks.
Sift Bakels Gluten Free Health Baking Mix and Gluten Free baking powder and add to mixture.
Press dough into a greased sponge roll tin then cover with jam.
In a bowl beat egg whites until stiff.
Fold in second measure of sugar followed by coconut.
Spread mixture over jam.
Bake at 180°C for 25-30 minutes or until meringue is dry and slightly coloured.
Cool for 5 minutes then cut into squares.
---
Find the complete range in your local supermarket today!