---
Fruit Mince Cakes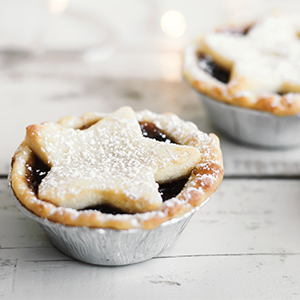 Ingredients
110g butter
¼ cup sugar
1 tsp golden syrup
1 cup BAKELS GLUTEN FREE FLOUR
1 tsp Gluten Free baking powder
1 tsp vanilla essence
Pinch of salt
1 egg (beaten)

Fruit Mince

30g butter
⅓ cup currants
¼ cup chopped raisins
2 Tbsp caster sugar
½ tsp cinnamon
4 prunes, finely chopped
¼ cup sultanas
1 Tbsp mixed peel
2 tsp brandy or rum
½ tsp nutmeg

Topping

2 Tbsp milk
60g butter
3¼ cup coconut
2 cups icing sugar drop of red food colouring (optional)
Method
Cream butter, sugar and golden syrup together until light and fluffy.
Add Bakels Gluten Free Flour and Baking Powder, vanilla essence and salt, and mix well.
Add the beaten egg and continue to mix until combined.
Into greased muffin or patty tins place 1 tsp of mixture followed by 1 tsp of fruit mince and top with another tsp of mixture.
Bake at 180°C for 15-18 minutes, or until done (Check while baking).
---
Find the complete range in your local supermarket today!